Hello Friends,
It is very hard to recognize birthday of all the friends. The smart way is to sync all you friends birthday's with Outlook which then will get synchronized with your I phone Calender.
Follow step Below to get this information on I-Phone.
1. Login to you Facebook account.
2. Go to Home page by clicking Facebook Icon on top left corner
3. Select Event on Left Pane
4. Select Birthday by clicking Magnifying Icon on right side (Shown Below)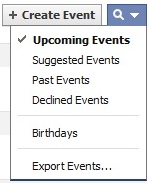 5. Once All Birthday will be displayed, by using same Icon select the same Icon and Click Export Birthday
6. This will give you a Link using which all the Birthday will will get synchronized with Outlook Calender
7. It will Open Outlook and ask to Import import data, Click YES
8. Once the Facebook calender will get Sync with Outlook, Synchronized your I phone calender with Your Outlook calender
Let me know if you face any problem.
Regards,
Ankur